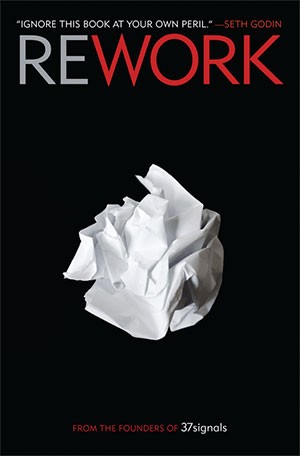 I have just finished reading the most refreshing business book I have ever come across. It's called Rework, and it is truly unique.
It the rebellious step child of business books. It breaks all the rules and it encourages you to break them too. It makes radical recommendations, like telling you to forget about a business plan, or silly things like mission statements. The chapters are short and to the point, often only one or two pages. The book doesn't feature a single graph or chart, and it tells you not to bother making them either. There's even a couple if instances of profanity.
This book is the business book for anyone who ever watched a related to the movie "Office Space". It dispenses with the flare, the bullshit, and the misery of trying to do it the "right" way.
It caught my attention
I kept seeing this book. The cover kept calling to me, and yet for a long time I never picked it up. I had other things to do, this book could wait.
I regret waiting.
This is the business book for everyone who has ever struggled to fit in. It the business book for the people who are always in trouble with the boss. It's the business book for anyone who has ever been "written up" by a boss and wanted desperately to punch to stupid bastard in the face. It's the business book for anyone who has ever head the words, "that's just how we have to do it", or "that's the company policy" and found the voice in your head screaming, "WHY?!"
This book will vindicate you. You'll find out you've been right all along.
It's hard it describe it
The formula for a book review is usually pretty simple; you write a brief synopsis, you sum up the parts, you emphasize the key points, and then you wrap it all up by offering your opinion.
That's hard to do with this book.