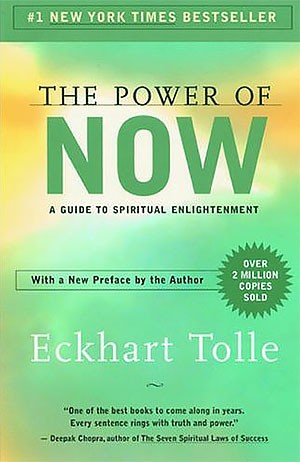 If you haven't heard of The Power of Now before reading this article, chances are you would have eventually. It's become a bit of a phenomenon you see, well beyond the level of your average "new age" book. This is due to author Eckhart Tolle's apparent lack of religious affiliation, and a huge amount of word of mouth marketing, now doubt helped along in more recent times by Oprah Winfrey's discovery and endorsement of the author.
I myself came upon it on the unlikely recommendation of my father, who is a born again Christian.
I was somewhat surprised to have him recommend such a book to me, and it is perhaps because of that fact that I even gave it a second thought, let alone purchase the book, as I did.
The basic premise of The Power of Now is that we human beings are unhappy because we live our lives constantly thinking about the past, or the future, thereby neglecting to enjoy the present. Were that all the book had to say, I would contend that it was very true, and that learning to enjoy every moment is a skill we should all endeavour to have. Naturally such advice would make for a very short book, and in itself does not sound very profound, so by necessity Tolle's message is far more complicated than that.
The book opens with a short personal history from the author in which he tells us about how miserable his life was until the age of 30 when he magically had some kind of breakdown, blacked out, and when he woke up he was in a state of pure joy which prompted him to spend several years doing nothing except sit on park benches being happy. For the first 163 pages Tolle, in a most repetitive fashion, explains how the key to happiness is to be. That is, to become aware that there is no past or future, only the now, as he calls it. He says that we as humans cause ourselves pain by not living in the now, and instead constantly thinking about the past or the future. If this sounds too esoteric, you can blame Tolle for over-complicating something that is really very simple: You cannot be happy if you are dwelling on the past, nor can you be happy if you place all your hopes in the future, which hasn't happened yet and exists only in your imagination. You must learn to enjoy and live only for the present moment, because that is all that every really exists. Up until this point, despite Tolle's meandering and repetition, and sometimes 'liberal' interpretation of various religious texts, I was really enjoying the book. I truly was finding it insightful and inspiring.
That all changed on page 164 with a section that details why women are closer to enlightenment that men. As a man, I was naturally a bit put off by this sweeping and seemingly unfounded statement. Tolle justifies this with some claims relating to the Chinese Tao. The Tao it seems is described as being the mother of the universe. Tolle says that "Tao" can be translated as "being" therefore women naturally embody "being" which Tolle uses a synonym for God, or the Universe or, well, take your pick.
From this point on, the book seems to have an increasing disdain for anything masculine, or perhaps it did from the beginning and only became evident at this point. The mind, for instance is viewed by Tolle as negative, and also as male.
"What does remain true, however, is that the energy frequency of the mind appears to be essentially male. The mind resists, fights for control, uses, manipulates, attacks, tires to grasp for control and so on. This is why the Traditional God is patriarchal, controlling authority figure, and often angry man who you should live in fear of, as the Old Testament suggests. This God is a projection of the human mind."
He then goes onto a section about dissolving the female pain body. The pain-body, according to Tolle, is a false body the mind creates as a collective memory of everything bad that has happened to us. Everyone supposedly has one constantly being fed by the mind in order to keep us in an unhappy, unenlightened state. He contend that women in addition to their own pain-bodies, have a collective pain-body.
Keep In Touch
Get the latest posts by email, plus exclusive content, offers, and free stuff just for subscribers.
"Every woman has her share in what could be described as the collective female pain-body – unless she is fully conscious. This consists of accumulated pain suffered by women partly through male subjugation of the female through slavery, exploitation, rape, childbirth, child loss, and so on, over thousands of years. The emotional or physical pain that for many women precedes and coincides with menstrual flow is the pain-body in its collective aspect that awakens from its dormancy at that time."
Huh? Did men not suffer as slaves as well? Is child loss something only women must endure? How is childbirth the result of male subjugation of the female? Is it not simply a biological fact of life? Men can no more be held responsible for the design of the human system of procreation that can women be blamed for the intense pain a man can feel when he crosses his leg the wrong way and crushes his scrotum. And did he just blame the existence of PMS on the world's patriarchal history? My oh my.
Then he comes out with this decidedly offensive whopper.
"In the quest for enlightenment, is being gay a help or a hindrance, or does it make any difference?

As you approach adulthood, uncertainty about your sexuality followed by the realization that you are "different" from other may force you to dis-identify from socially conditioned patterns of thought and behaviour. This will automatically raise your level of consciousness above the unconscious majority."
Excuse me? Did he just say that gay people are automatically more spiritually enlightened than the rest of us? I have no issues with gay people, I don't think it's immoral or wrong or sinful, but to say that homosexual people are somehow more enlightened than others is not only ludicrous, it's downright offensive if for no other reason that it is obscenely arbitrary.
In the end the book, which starts out with much promise, becomes yet another disappointing new age fluff fest littered with material that seems carefully devised to appeal to the main consumers of this type of book: well-meaning but ultimately misguided people with an unfortunate resentment to anything deemed to be in the realm of maleness, which in Eckhart Tolle's view includes such things as rational thought.
In the end, I'd say it's worth a read for curiosity's sake, but ultimately most would be much better served by the superior Conversations With God, which presents much of the same ideas, as well as many, many more, while being inclusive and dispensing with the anti-male crap.